SSA
SPACE SITUATIONAL AWARENESS (SSA)
Space Situational Awareness (SSA) refers to the knowledge of the space environment, including location and function of space objects and space weather phenomena. SSA is generally understood as covering three main areas:
Space Surveillance and Tracking (SST) of man-made objects.
Space WEather (SWE) monitoring and forecast.
Near-Earth Objects (NEO) monitoring (only natural space objects).
Space Surveillance and Tracking (SST)
An SST system is a network of ground-based and space-based sensors capable of surveying and tracking space objects, together with processing capabilities aiming to provide data, information and services on space objects that orbit around the Earth. Currently, SatCen's activities in the SSA domain are focused on SST. These activities aim at protecting the safety and security of European economies, societies and citizens, which rely on space-based applications such as communication, navigation and Earth observation.
Space-based assets are increasingly at risk from collision with other operational spacecraft or debris, and objects may re-enter and cause damage on the ground. To mitigate these risks, the European Union established in 2014 the Space Surveillance and Tracking (SST) Support Framework, also known as the EU SST, with the Decision 541/2014/EU of the European Parliament and the Council (SST Decision).
The SST Decision foresaw the creation of an SST Consortium currently composed of seven EU Member States represented through their national designated entities: France (CNES), Germany (German Space Agency at DLR), Italy (ASI), Poland (POLSA), Portugal (PT MoD), Romania (ROSA) and Spain (CDTI). Since 2016, the SST Consortium and SatCen have worked together to develop a European SST capability with the support of the European Union under different funding lines (H2020, Galileo & Copernicus programmes), and formed the SST Cooperation.

SST Cooperation
EU SST capability
The SST capability consists of three main functions: sensor, processing and service provision. Sensors from Member States contribute data that is analysed in the processing function and feeds a joint database and ultimately a catalogue; from this, products are derived for three services, generated by the Operations Centres and delivered to users via the SST Service Provision Portal, developed and operated by SatCen.
EU SST services
Collision Avoidance (CA): provides risk assessment of collision between spacecraft or between spacecraft and space debris
Re-entry Analysis (RE): provides risk assessment of uncontrolled re-entry of man-made space objects into the Earth's atmosphere and generates related information
Fragmentation Analysis (FG): provides detection and characterisation of in-orbit fragmentations, break-ups or collisions
SST services are provided upon request to all EU Member States, the European Council, the European Commission, the European Union's External Action Service, public and private spacecraft owners and operators, and public authorities concerned with civil protection across the European Union. More than 140 organisations are receiving these services and more than 290 European satellites are safeguarded from the risk of collision.
EU SST Front Desk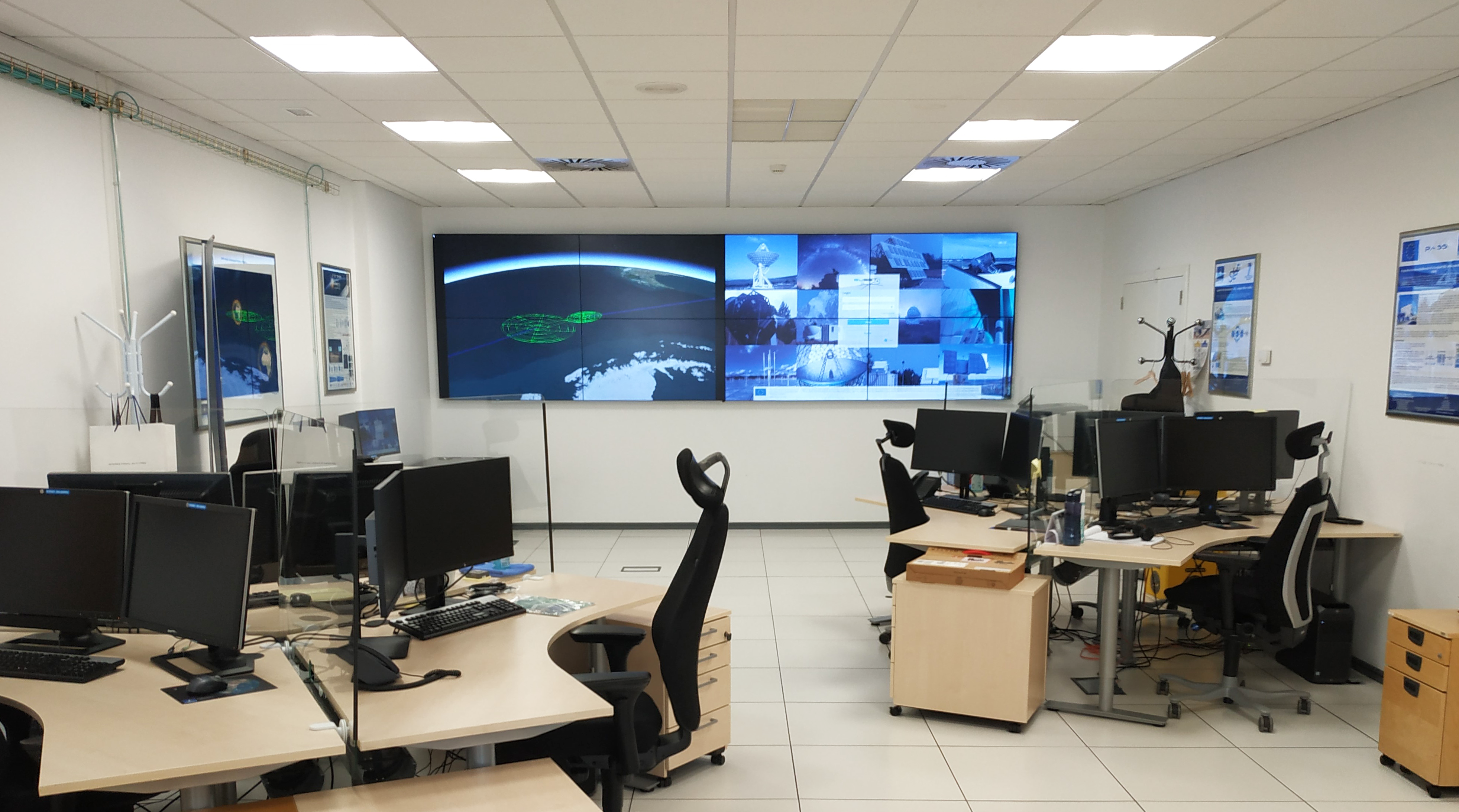 SatCen manages the EU SST Front Desk, which consists in operating and consolidating the dedicated service provision interface for delivering SST services to SST users (the EU SST Service Provision Portal) and in operating the EU SST Helpdesk to support SST users.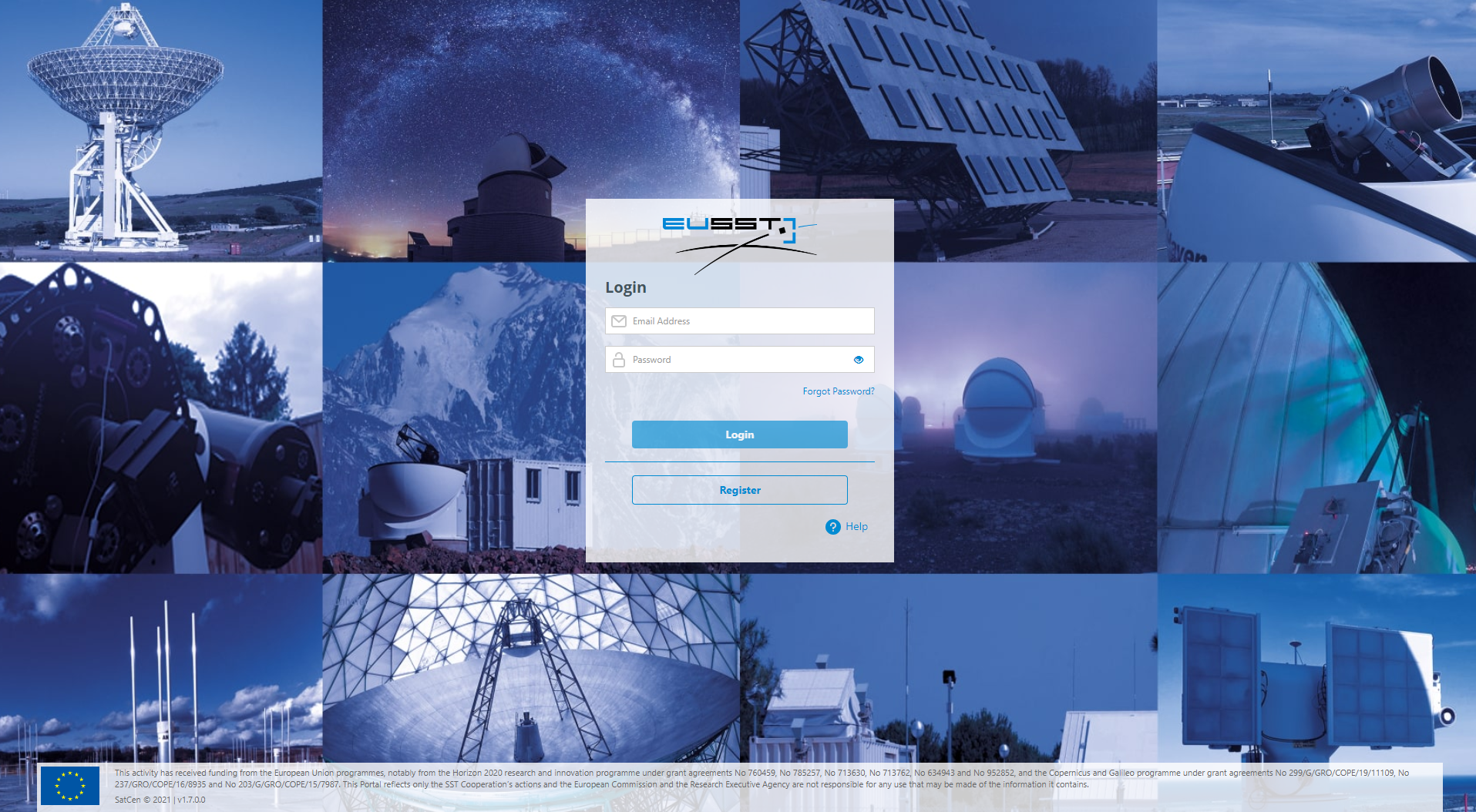 EU SST Service Provision Portal
All dimensions of EU SST are frequently evaluated through Key Performance Indicators (KPIs). SatCen is responsible for defining, monitoring and reporting these indicators, covering aspects such as sensor and data processing functions and their contributions to the service function, user support and user engagement.
The Centre also coordinates the EU SST Taskforce, created to deal with scenarios associated to critical operations and high media interest events, including the preparation of materials for dissemination to users and/or the general public regarding these events.
Furthermore, SatCen is in charge of communication, dissemination and user engagement activities for EU SST, aiming at increasing the visibility of EU SST among its audiences, promoting the enrollment of potential SST users, and gathering user needs in order to improve the EU SST services.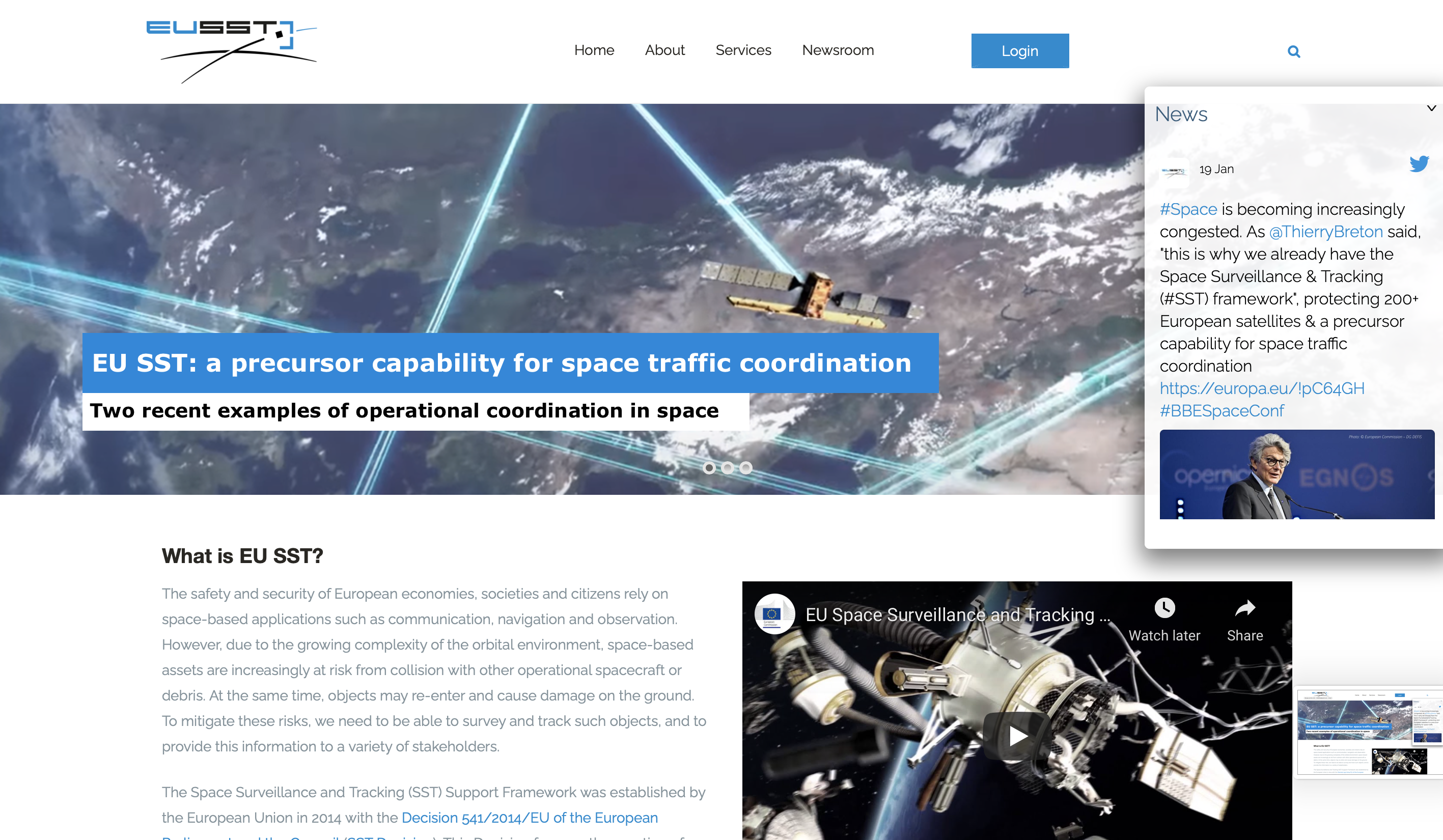 EU SST website www.eusst.eu
2nd EU SST Webinar
SatCen's contribution to EU SST is crucial to perform its mission, as the Centre's activities rely on space assets. EU SST also plays a key role in the context of the Common Foreign and Security Policy (CFSP), as only if space infrastructure is protected (security of space) it can contribute to the protection of citizens (security from space).
SatCen has been working on SSA activities for a decade. Before the SST Support Framework was established, SatCen managed the following preparatory projects:
The Centre is also contributing to define future trends in the SSA domain. EU SST is already a precursor capability for operational coordination of the space traffic. To minimise the risk of potential in-orbit collisions, a very high level of coordination is required, in order to interact with the involved operators and assess risk mitigation options in time-critical scenarios, and EU SST has been facilitating this since 2016.
SatCen is also taking part in two Horizon 2020 projects related to space traffic coordination: SPACEWAYS, which will study and provide guidelines and recommendations on space traffic management (STM), and EUSTM, which will work towards the definition of a future STM capability together with European industrial players, research institutes, technology experts and users.
CONTACT US
To request further information on SSA related matters, please send an email to the SatCen SSA Unit: ssa@satcen.europa.eu.